As the popularity continues to grow, many public and private facilities are opting for polished concrete. There are many benefits of concrete polishing, including ease of maintenance and being a sustainable flooring option. Polished concrete floors are easy to clean, supportable in high-traffic areas and offer years of durability. They also eliminate the need for messy waxes or coatings and have little to no downtime during the polishing process.
The high reflectivity of polished concrete is another important benefit, especially for automotive dealerships, retail stores, restaurants, and even industrial facilities wanting to project a bright, clean, and professional image. Polishing concrete is well within OSHA standards and the polish can give concrete a degree of shine, similar to polished marble or granite, that lasts longer than coatings or wax. It's also possible to produce a terrazzo look by grinding through the top of the concrete cap to expose the aggregate below.
POLISH
Polishing is a process that includes several levels of grinding (wet or dry), applying densifiers and sealers, and burnishing. It may also include dyeing with a wide variety of colors. Polishing will take a dull, sealed, or rough concrete surface and transform it into a quality, smooth, and highly reflective surface.
RESTORE
Restoring a concrete floor requires either an overlay or deep grinding, densifying, sealing, and burnishing of concrete. This may be required if the concrete has experienced a large amount of degrading.
REVITALIZE
Revitalizing can include light grinding, reapplying densifier, sealing, and re-burnishing. This is a process that addresses a concrete floor that has already been polished and is showing signs of wear from dulling due to wear of traffic or etching.
Stenciling offers unlimited options to personalize and enhance your concrete floors. From simple to complex designs, stencils will add a WOW factor with a variety of color and texture combinations. Depending on the effect you are trying to achieve with your flooring system, stencils can be used to create patterns, add logos, or showcase art pieces. An intricate decorative flooring design can be easily achieved with concrete stencils.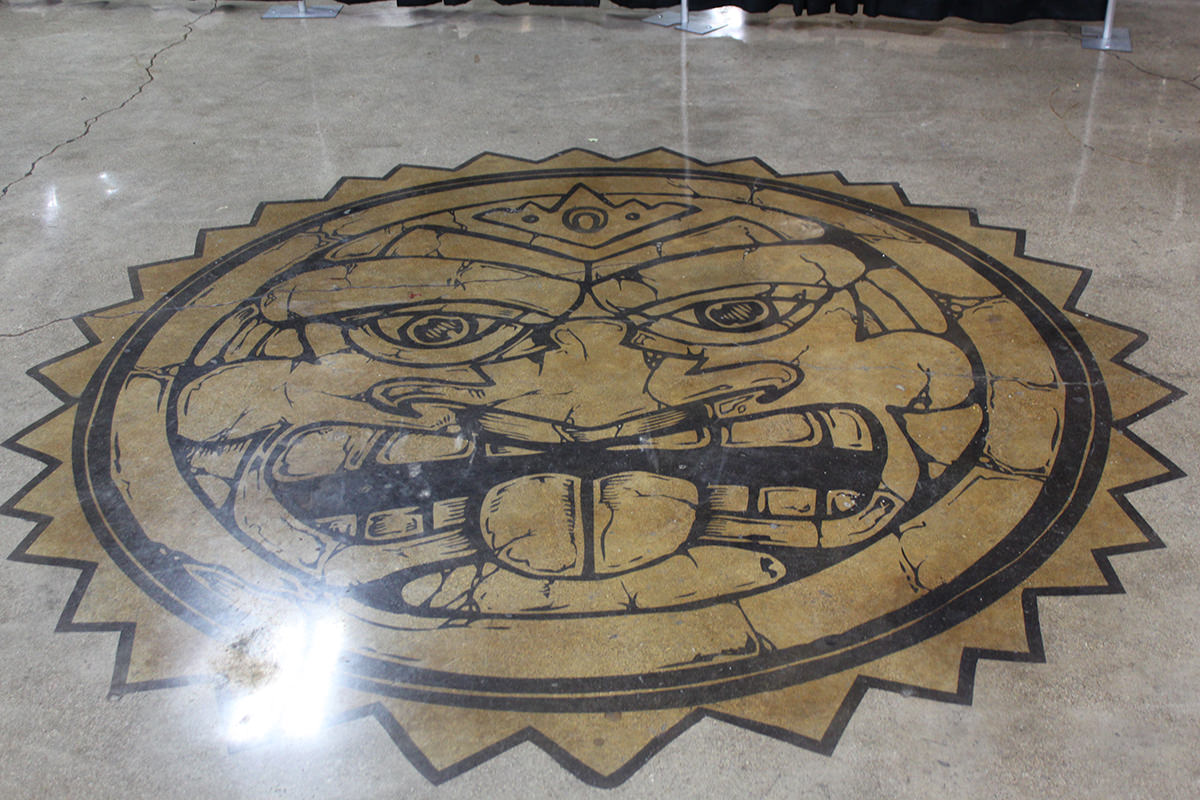 Concrete dye is quickly becoming a leader in the concrete industry, with a multitude of dye solutions showcased in today's market trends. Dyes come in a variety of colors and finishes; and can transform your concrete from a simple grey to your companies' color of choice. PREFERRED GLOBAL can help you identify the right dye solution for your team and execute the job with professional quality.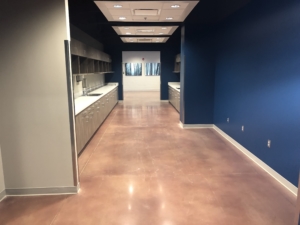 Polished concrete can be used in both retail and manufacturing/industrial settings. Its versatility offers a visually appealing/unique floor for retail applications, as well as a durable and easy to clean floor for industrial settings.
Polished concrete has many benefits in both industrial and retail settings. Some of these benefits include:
Durability – Polished concrete is extremely durable and resistant to damage from heavy-wheeled and foot traffic.
Low-maintenance – Polished floors are easy to clean, requiring only occasional damp mopping. They also eliminate the need for messy waxes or coatings, as well as the associated labor, time, and expense to apply them. The glossy surface resists the marks of forklift truck tires and staining from oil and chemical spills.
Reflectivity – Due to polished concretes inherent ability to reflect light, it can be responsible for brightening a room up to 50%. This results in lower electricity costs and improves work atmosphere.
No down time –  Since no chemicals are used in the installation process and the polishing of the concrete floors, the floor can be used right away for service. Many other flooring types need a window without foot traffic to ensure proper adhesion. However, polished concrete can be used immediately, which cuts back on down time in both retail and manufacturing settings where time is money!
Wax-free floor – Given that concrete floors are polished for aesthetics functionality, there will be no need to wax or strip the surface. This will save lots of headaches involving maintenance in the future.
A concrete overlay is a great solution for repairing extremely damaged concrete. This process allows for a brand new smooth floor to be installed over a damaged existing floor. Overlays can vary in thinness; the thicker the overlay, the more durable it will be. Also, installing a concrete overlay can be for decorative or practical purposes.